Andrea Festa
Professore/Professoressa associato/a
SSD: GEO/03 - geologia strutturale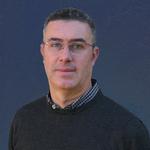 Contatti
+39 011 6705186
Personal Web Page: http://andreafesta.magix.net/public/
+39-011 6705339
Dipartimento di Scienze della Terra
Università di Torino
Via Valperga Caluso, 35 -10125 Torino (Italy)
Presso
Department of Earth Sciences
Dipartimento di Scienze della Terra
Corsi di Studi in Scienze Geologiche (L-34 e LM-74)
Curriculum vitae
Curriculum Vitae (0.2 MB)
Temi di ricerca
Recent Editorial Positions:
2019 - to present: Associate Editor GONDWANA RESEARCH (Elsevier Publishers)
2017 - to present: Associate Editor EPISODES (IUGS publications)
Recent International collaborations:
2009-to present, Miami University, Oxford, OH, USA. Processes of mélange formation and Ophiolites and their origin in orogenic belts and subduction-accretion complexes .
2013-2015, Universidad de Oviedo, Spain. Procesos de formación de melanges y otras unidades geológicas desorganizadas.
2016-to present, Ruhr University (Institute of Geology, Mineralogy and Geophysics), Bochum (Germany). Structural study of the Cretan Mélange (Crete, Greece).
2016-to present, Vrije Universiteit Amsterdam (The Netherlands). Structural-stratigraphy of chaotic complexes in Northern Apennines.
2019-to present, Chinese Academy of Geological Sciences (China). Tectonic evolution and mélange formation of South Qilian belt and Kunlun Orogenic belt (Qinghai Province, NW China).
2019-to present, China University of Geosciences, Beijing (China).
Scientific background, and ongoing research:
The scientific interest, spanning the fields of Tectonics and Structural Geology, includes regional tectonics, field mapping, and structural and stratigraphic studies in orogenic belts of different ages (from Paleozoic to Cenozoic), exhumed accretionary wedges and subduction zones (additional information at http://andreafesta.magix.net/public/).
The main subjects of my research are:
- Mélange and mélange forming processes: definition of the role played by tectonic, sedimentary (gravitational), and diapiric processes in the formation of mélanges (or chaotic rock units) in passive and active margins, and in particular in ancient accretionary complexes. Particular interest is addressed to document and define: (i) the relationships between different mélange types, and geodynamic setting in which they formed; (ii) the criteria helpful for distinguishing different types of mélange forming processes and their superposition. This research is developed through the comparative analyses of different types of mélanges exposed in the Apennines and W-Alps in Italy, circum-Mediterranean region, Central Appalachians and Sierra Nevada (USA), Andean Precordillera (Argentina) and Cantabria Zone (Spain). The paper "Mélanges and mélange-forming processes: a historical overview and new concepts" by Festa et al. (2010; Int. Geol. Rev.) was ranked #10 on 11542 articles in the category "Geology" of Web of Science (Core collection) for the period 2010 to 2014.
- Convergent margins and subduction zones: definition of the structural setting and tectono- stratigraphic evolution of convergent margins from subduction-related deformation to collision and intra-continental deformation. This research also focus on the dynamics of the accretionary complexes, including the study of the MTDs (mass-transport deposits), supported by the comparison between modern accretionary complexes (oceanic drilling from IODP project) and fossil analogues. Studied areas include the Northern, Central and Southern Apennines in Italy, Tertiary Piedmont Basin (NW-Italy), Western Alps, Central Appalachians and northern Sierra Nevada (USA).
- Tectono-stratigraphic evolution of sedimentary basins: definition of the multistage tectono-stratigraphic evolution of fold-and-thrust belts (Italian Apennines) and episutural basins (Tertiary Piedmont Basin, NW-Italy). This research is based on detailed, and regional field mapping, structural, and stratigraphic analyses of the syntectonic clastic wedges, and top-thrust successions. Interpretation of seismic lines, analysis of fractures in outcropping reservoirs, and their implication for oil migration, as well as paleomagnetic analysis represent other detailed aspects of these researches.
- Intra-oceanic tectonic and sedimentation relationships: reconstruction of the intra-oceanic tectono-stratigraphic setting of the Late Jurassic Ligurian-Piedmont Ocean (Alpine Tethys) and preserved remnants of extensional detachment faults associated to Oceanic Core Complexes in eclogite facies Western Alpine metaophiolite units (Monviso Meta-ophiolitic Complex and Aosta Valley). Particular attention is addressed to the role played by preserved intra-oceanic structures in controlling the subsequent tectonic evolution of Western Alps during subduction, obduction, collision and exhumation stages. These studies have been awarded by IUGS (International Union of Geological Sciences) with the EPISODES Best Paper Award 2016 in recognition of the paper: "Pre-Alpine extensional tectonics of a peridotite-localized Oceanic Core Complex in Late Jurassic, High-Pressure Monviso Ophiolite (Western Alps)" by Balestro, G., Festa, A., Dilek, Y., Tartarotti, P. Episodes, 38 (4), 266-282.
- Geological Mapping: geologic mapping represents the principal tool that I use in my research to convey a complete compilation of information about the structure and stratigraphy of the sectors I work on. The product consists of maps at different scales (from 1:10.000 to 1:250.000) of different sectors of the Apennines thrust-and-fold belt.
Progetti di ricerca
Attività in agenda
Organi
Ricevimento studenti
Da Lunedì a Venerdì su appuntamento via email